Angela, CNP
As the daughter of a beekeeper and now a Certified Nutritional Practitioner, I have developed a unique insight into what makes quality bee products and how they can help you live a healthier, happier life.
I have taken my formal nutrition training and combined it with a lifetime of working with bee pollen, royal jelly, propolis and raw honey to create Bee Pollen Buzz, now one of the world's leading sources of premium bee products and information on creating true natural health from the hive.
At Bee Pollen Buzz, we monitor the scientific journals daily to find and interpret the latest science and insights into how you can use bee products so that you can:
Boost your vitality & energy.   

Create glowing, radiant skin.  

Increase resistance to all disease.    

Slow aging.    

Balance and improve hormones.    

Improve sleep quality.    

Reduce inflammation and more
So not only will you find a huge variety of quality bee products in our store, but you'll also find everything you need to know about the products of the hive in order to drastically improve your current health.   If you look to the left, I have posted hundreds of pages of information on everything regarding health from the hive and how you can use them to start making BIG changes.
Sign up for The Buzz right now so that I can send you the latest info every month and we can begin transforming your health and life!
My Story
Growing up on the Dutchman's Gold honey farm, natural bee products like pollen, royal jelly and bee propolis have been a part of my life since the day I was born (My mom even put bee pollen in my baby food!).
Growing up this way instilled in me a keen interest in natural health and led me to study this field further after high school at the Institute of Holistic Nutrition. It was here that I became a Registered Nutritional Consultant.
Not too long after my graduation, my dad (the beekeeper) came to me with a problem. He couldn't keep up to the phone calls and inquiries about our products from all over the world.
Shortly thereafter I launched this site, a place where people from all over the world could safely and easily buy our products.
But, I'm a nutritionist at heart and didn't want to just sell bee pollen products.  I wanted to teach people about the benefits of bee pollen, royal jelly and raw honey.
To tell them how to take these supplements safely and properly.  And the proper doses they should be taking each day.
But also to give people a place to come and read and learn about all aspects of health from the hive.
Like all-natural, holistic skin care without harsh chemicals and parabens.  Its true, most people don't know that beeswax and the compounds found within the hive make amazing skin care products!
Read about healing skin creams like So Ho Mish, which is filled with the vitality and healing properties of the hive.  The testimonials that we receive here are often unbelievable - "So Ho Mish is the best cream I've ever used" is just one example.   It is treating psoriasis, ezcema, wrinkles, age spots and more.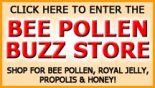 And then there is our amazing All Natural Body Cream with Beeswax, which has been described by one of our customers as "a miracle" treatment for her little girl's dry and damaged skin.   Painful skin conditions are vanishing in under a week.  Rashes and dry, cracked hands heal up in no time.  
Or what about bee propolis? Find out how it kills bacteria and viruses and why I never get sick when I take this powerful compound.  Or how propolis is treating gum disease and receding gums all over the world simply by rubbing the tincture into the gums or chewing the raw chunks.
Or how using raw honey for allergies might finally give you the relief you've been looking for...without taking a drug.
Heck, you can even read about someone who lived on nothing but bee pollen and fresh fruits and vegetables for a several months.  The results were that she lost weight, her energy sky rocketed and her cholesterol normalized!
So, as you can see, Natural Health from the Hive encompasses many aspects of living a holistic life.
And since this truly is my passion in life and the way I live each and every day, I will be writing about different topics as much and as often as I can on this site. What started out as a site "just about bee pollen" has become so much more...
That's just a small taste of what's in the site. Sit back, relax and look around. I update the site frequently, so please subscribe to my monthly newsletter, The Buzz. It tells you each month about the new information that I have added, including interesting stories and experiences from other bee product users!
Bee healthy!
Angela, RNCP and The Bee Pollen Buzz Team