Propolis and Prostate Cancer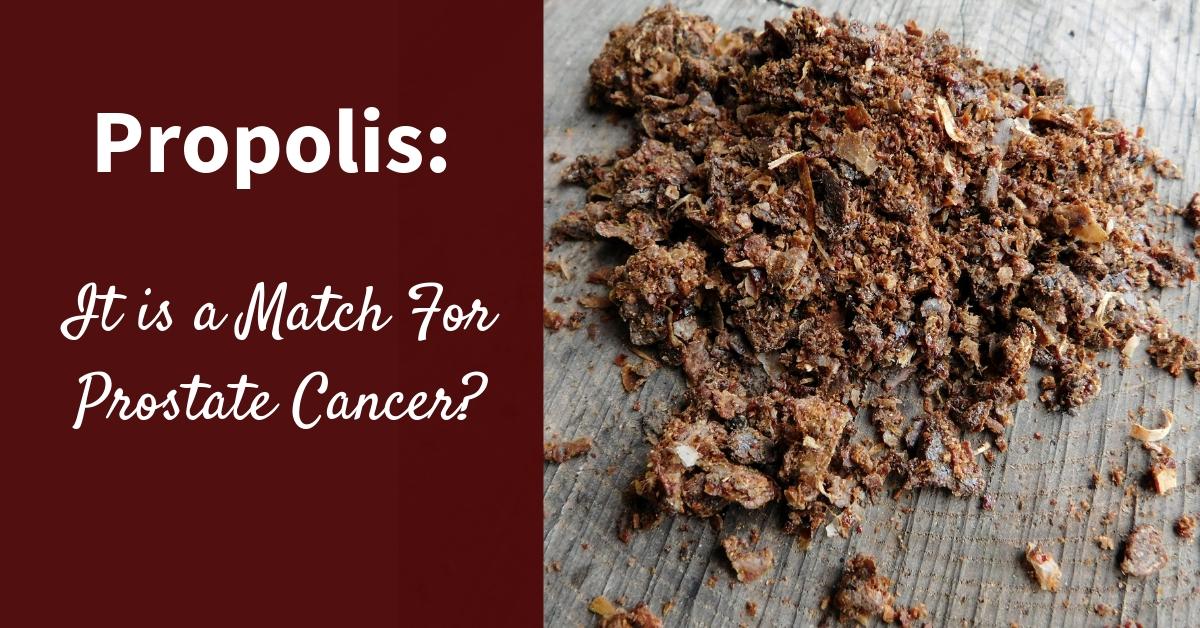 by Angela Van Alten, Nutritionist and Beekeeper's Daughter


Prostate cancer is the second most frequently diagnosed cancer of men.   More than 1.1 million cases of prostate cancer were recorded in 2012 globally, accounting for around 8 per cent of all new cancer cases and 15 per cent in men.
The primary treatment for prostate cancer is called Androgen ablation therapy.  This is designed to block the production of male hormones, or more specifically testosterone. This is done by surgically removing the testicles, by taking female sex hormones, or by taking other drugs called antiandrogens.
This therapy is highly flawed.   Turning men into females (from a hormone perspective) is not effective or healthy.  The majority of prostate cancer patients receiving the this therapy ultimately develop recurrent castration-resistant tumors within 3 years.  Even worse, chemotherapy shows little effect on prolonging survival for patients with metastatic hormone-refractory prostate cancer.  Yet, it is still widely used.
Alternative treatments are clearly needed and fortunately, our friendly bees may provide an effective, non-toxic option.  Caffeic acid phenethyl ester (CAPE) is a strong antioxidant found in propolis.  Recent studies indicate that CAPE treatment suppresses tumor growth in human prostate cancer cells.  Combined treatments of CAPE with chemotherapeutic drugs exhibit synergistic suppression effects.  CAPE treatment sensitizes cancer cells to chemotherapy and radiation treatments, making them easier to destroy.  In addition, animal studies indicate that CAPE treatment offers the patient a strong degree of protection from the toxic side effects of chemo and radiation.

Propolis Stops The Growth of Prostate Cancer Cells in Mice
In another paper published in Cancer Prevention Research by researchers from the University of Chicago Medicine, researchers combined traditional cancer research methods with cutting-edge proteomics to find that CAPE arrests early-stage prostate cancer by shutting down the tumor cells' system for detecting sources of nutrition.

"If you feed CAPE to mice daily, their tumors will stop growing.  After several weeks, if you stop the treatment, the tumors will begin to grow again at their original pace," said Richard B. Jones, PhD, assistant professor in the Ben May Department for Cancer Research and Institute for Genomics and Systems Biology and senior author of the study. "So it doesn't kill the cancer, but it basically will indefinitely stop prostate cancer proliferation."

Propolis Component Boosts Prostate Cancer Cell Deaths
Research published in the International Journal of Oncology suggests that propolis may in fact help kill off prostate cancer cells.    CAPE has been shown to sensitize prostate cancer cells to something called TRAIL, which stands for tumour necrosis factor-related apoptosis-inducing lignand.  It is a potent stimulator of apoptosis (programmed cell death) in cancer cells and is important for the immune system in the surveillance and elimination of developing tumours.

Unfortunately, many cancer cells are resistant to TRAIL-mediated death.   This is where propolis comes in.   A compound in propolis called Artepillin C possesses strong anti-tumor and chemopreventive properties.   
In this study, the researchers administered the TRAIL-resistant prostate cancer cells with Artepillin C to determine if it could help sensitize them.  What they found is that Artepillin C sensitized the cells to TRAIL, significantly increasing the likelihood that the cancer cells will die off as they should.  
Ultimately, propolis is looking very encouraging as a potential prostate cancer therapy.   More research is needed as these studies have been done primarily in test tubes and animals but the body of work on propolis and prostate cancer is building up nicely.   If you or a loved one is using propolis as a supplement, be sure to use a product that is guaranteed to contain both CAPE and Artepillin C for best results.    I use doses of 3000 - 5000 mgs per day for challenging health conditions.
---
Sources:
Med Hypotheses, 2013 Feb 22. pii: S0306-9877(13)00075-3
Int J Oncol, 2012 Jun 25

†These statements have not been evaluated by the Food and Drug Administration. This product is not intended to diagnose, treat, cure or prevent any disease.