Gum Disease: Is Propolis the Answer?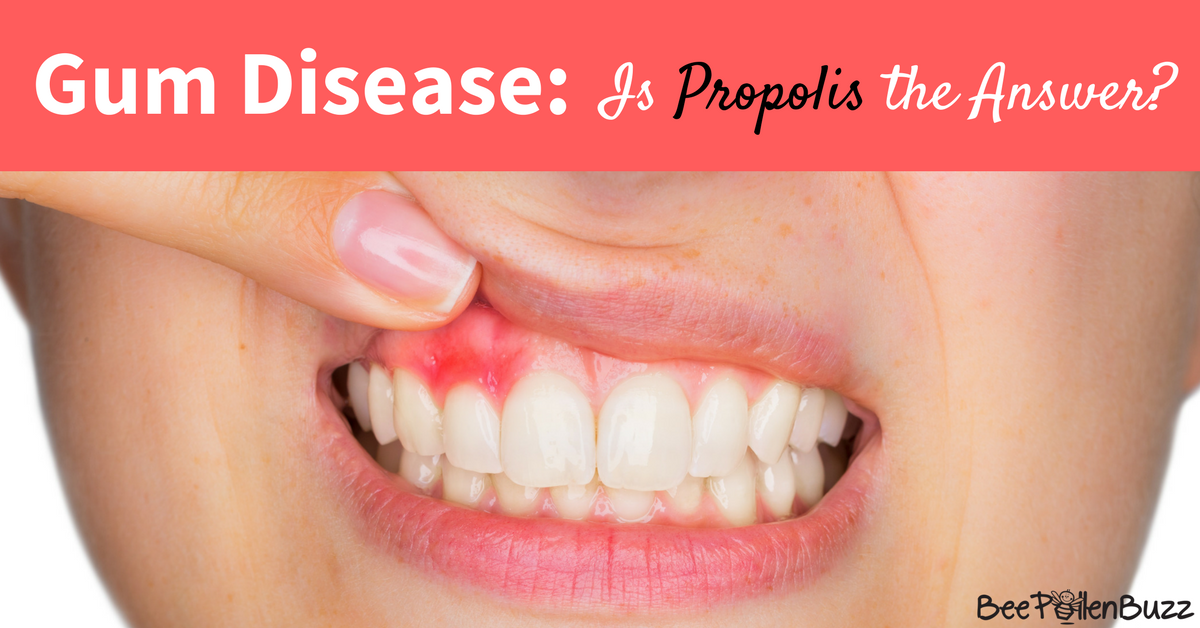 Save your gums, prevent gum disease and boost oral health with Propolis says modern research studies
---
by Angela Van Alten, Nutritionist and Beekeeper's Daughter


One of the most common questions I get here at Bee Pollen Buzz is about how to use propolis for better oral health.   More specifically, gum disease (periodontitis) which is inflammation of the gum and can, if left untreated, not only result in the loss of teeth but also the bone surrounding it.
Gum disease is problematic not only because it is one of the leading causes of tooth loss, but also because most of the pathogens involved are surprisingly resistant to many forms of antibiotic. These problems have led scientists to research alternative effective treatments and, once again, it would seem the humble bee has come to the rescue.

A recent study evaluated the effects of propolis tincture together with three standard antibiotic treatments against several periodontal pathogens responsible for gum disease. They concluded that, although one, combined antibiotic treatment resulted in pathogenic sensitivity, the others had limited, if any effect. This means that when considering antibiotics not only does your dentist have to correctly identify the strain of bacteria causing your gum disease, but he also has to prescribe the correct antibiotic therapy for it to have any chance of producing some positive effect. On the other hand, propolis was effective against all of the strains tested. (1)
This latest research comes on the back of a long line of studies investigating the benefits of propolis for oral health. Many suggest that for oral hygiene in general propolis is an alternative way not only to treat disease but also an extremely good way to prevent it. It has been shown to be effective against numerous dental conditions ranging from the minor to severe and includes reducing, although not eliminating, bad breath (halitosis).
However unlike many other traditional treatments which are specific to individual oral problems, propolis has also been proven to positively affect many other aspects ranging from reducing the bacteria which contribute to plaque build-up through to decontaminating the fibres of toothbrushes. (2)
Brushing Your Teeth With Propolis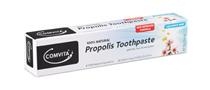 One of the most important measures to be undertaken in order to fight gingivitis and periodontitis is maintenance of proper hygiene of the oral cavity using toothpaste. The research to improve the content of toothpaste has continued for many years in order to better combat these conditions.
The aim of this study, published in the journal Advanced Clinical Medicine 2012 Jan-Feb, was to determine and investigate the influence of the application of a toothpaste containing 3% ethanol propolis extract on the state of the oral cavity.
The research group comprised 80 adult patients divided into two subgroups: Group I, which comprised 40 patients without pathological changes within the boundaries of the periodontium, and Group II, also 40 patients with periodontitis caused by dental plaque and lack of proper hygiene of the oral cavity.
The patients underwent three examinations: initial, follow-up after 7 days and after 8 weeks of being in the program.  The study results concluded that using a toothpaste containing propolis was indeed highly effective in both groups of patients. 
Lose a Tooth?  Save it With Propolis
Although the modern consumer tends to demand answers as to why a specific product might work, although the same question is rarely asked of contemporary drugs, scientists have been aware for many decades that propolis is an excellent natural antibacterial, anti-fungal and anti-inflammatory compound. And, although I might mention many more uses for which propolis has proven beneficial in respect of oral health, there is one which may, in a minor emergency, come in very handy: most people will be aware that when a tooth is accidentally lost the traditional method of transportation and preservation is to put it in milk. However a study published in 2006 went one better when it discovered that a 10 per cent propolis solution was actually a safer method of preservation than either the traditional milk or Hank's Balanced Salt Solution. (3)

It would seem, and particularly with regard to the first study I mentioned, that propolis and its beneficial effects relating not only to gum disease or even oral hygiene in general, but also its efficacy when accidental damage occurs, is finally getting the attention it has deserved for so long.
How to Use Propolis for Your Oral Health
Although propolis has been used as a treatment for gum disease for many centuries, science has only just provided the evidence that it does in fact work: a fact which, considering the problems, is coming as a pleasant surprise to patients and dentists alike.
It has been my experience that using a propolis based toothpaste to brush the teeth AND then applying a 20% water based propolis extract can be very effective for gum disease and gingivitis.   Our customers have found that applying the propolis tincture with a finger directly to the gums twice daily works well, simply by rubbing the tincture into the gums.   Based on the study results, it might also be prudent to soak your toothbrush in a propolis solution once a week or even consider adding a couple of drops of liquid propolis to your toothbrush after use. 
What to Remember:
Propolis is scientifically validated to be effective against the bacteria that cause gingivitis and gum disease

Consider using a propolis based toothpaste for effective prevention 

Apply a water based propolis tincture to your  gums daily

Soak your toothbrush in a propolis solution weekly or add 1-2 drops of propolis to your toothbrush after brushing
---
†These statements have not been evaluated by the Food and Drug Administration. This product is not intended to diagnose, treat, cure or prevent any disease.

References: