Propolis Effective for Oral Hygiene

One of the most common questions I get here at Bee Pollen Buzz is about how to use propolis for oral health.   More specifically, for gum disease (periodontitis).  The results are quite astounding - propolis is very effective at reversing this condition.  So it is very exciting to see research being done in this area.  
One of the most important measures to be undertaken in order to fight gingivitis and periodontitis is maintenance of proper hygiene of the oral cavity using toothpaste. The research to improve the content of toothpaste has continued for many years in order to better combat these conditions.
The aim of this work, published in the journal Advanced Clinical Medicine 2012 Jan-Feb, was to determine and investigate the influence of the application of toothpaste and gel with 3% ethanol propolis extract on the state of the oral cavity.
The research group comprised 80 adult patients divided into two subgroups: Group I, which comprised 40 patients without pathological changes within the boundaries of the periodontium, and Group II, also 40 patients with periodontitis caused by dental plaque and lack of proper hygiene of the oral cavity.
The patients underwent three examinations: initial, follow-up after 7 days and after 8 weeks of being in the program.  The patients were also instructed about hygienic procedures of the oral cavity.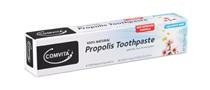 Results of the research show the effectiveness of hygienic preparations with 3% content of ethanol propolis extract in both groups of patients.
Unfortunately, this is as far as the paper goes.  It does not state how effective the propolis toothpaste or gel was in reversing these conditions.   It has been my experience that using a propolis based toothpaste to brush the teeth AND then applying a 20% water based propolis extract can be very effective for gum disease and gingivitis.   Our customers have found that applying the propolis tincture with a finger directly to the gums twice daily works well.
Premium propolis products here
Return to the Main List of All Products