Dutchman's Gold Raw Honey
Click here to view available sizes >>

*TOP SELLER*
Guaranteed 100% Canadian honey.  No off-shore honey EVER.
The Dutchman's Gold Raw Honey is our top selling honey product.  This pure, Raw Honey is unheated and unpasteurized. It contains all of the wonderful compounds that nature intended including naturally occurring bee pollen, propolis and beeswax. 
Dutchman's Gold Raw Honey is produced in Ontario, Canada by Master Beekeeper John Van Alten.   This award winning product regularly receives rave reviews from around the world on its unique taste and texture.
Packed in glass.  3 kg and 15 kg packed in plastic pails.
Ingredients: 100% raw honey.
 Organic Raw Honey from Honey Bunny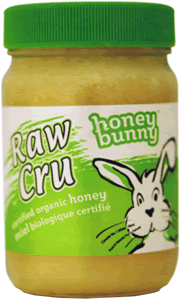 $12.49 per 500 g bottle

CERTIFIED ORGANIC*
This certified organic raw honey from Honey Bunny is sourced from the Peace River area of Alberta Canada. It is guaranteed to be 100% Canadian honey.
The Peace River area is a clean, unpolluted area of Canada and is very well suited to producing raw honey without having to worry about industrial pollutants making their way into the products.
This product is unpasteurized and packed in glass.   Available in 500 gram (1.1 lb) size.
Ingredients: 100% organic raw honey.