Dutchman's Gold Bee Pollen
Sourced from remote areas throughout the United States and Canada, Dutchman's Gold bee pollen is quickly cooled for maximum freshness and nutrition. 
| | | |
| --- | --- | --- |
| | Original Bee Pollen Sizes: | Super Premium Pollen Sizes: |
Super Premium 100% Canadian Bee Pollen
The Super Premium 100% Canadian Bee Pollen is produced in the pristine Peace River area of Alberta Canada.  This is a premium bee pollen with excellent color, taste, texture and nutrient levels.   There is very limited supply of this bee pollen as it is sourced from one beekeeper - we are not able to obtain as much of it as we require due to the high demand for Canadian bee pollen and when we run out of our supply, it will be unavailable until the proceeding Fall.

Available in a 2 kg (4.4 lbs) size, a 1 kg (2.2 lb) and a 500 gram (1.1 lb) size.  
You'll Love our Bee Pollen Products!
If you love our bee pollen products, please click on the 'like' button above!
Testimonial from Anna A.:
Your bee pollen is absolutely the best tasting ever I have tried.
Lisa B., Mississauga.
"It gave me quite a bit of energy and took away my morning coffee craving and curbed my appetite!
Eddy T., Ontario.
"My wife is 63 and looks like she is in her 40's. (this from her friend's compliments) She can still wear the same dresses she wore 35 years ago when first met me. Her secret - she and I started taking bee pollen 30 years ago."
And from Grace S.
"I just wanted to report that it is so true about bee pollen helping nails. It not only helped my nails (that are strong and beautiful because the bee pollen is directly related to their good health) but it also has made a huge difference in my hair. The times I did not eat bee pollen my nails would be softer and break easily. But when I would get back to eating the pollen my nails would immediately get strong and very healthy....the same is true about my hair. My hair has gotten thicker and more vibrant because of the bee pollen...."
Frequently Asked Questions:
Q - How much bee pollen do I take each day and when?
A - For general health, take 1 - 2 tablespoons of bee pollen granules per day either at once or in divided doses throughout the day. More or less can be consumed based on your weight, health status and or budget. Only consume this much bee pollen daily if you tolerate bee pollen well.
Q - How do I store my bee pollen granules and how long will they last?
A - The best place to store your bee pollen granules is in the freezer. Stored this way, the pollen will last for several years. In the freezer, bee pollen won't turn to ice or crystalize. It remains very accessible and easy to spoon or pour.
Q - What is the difference between bee pollen granules, chewables and capsules/tablets?
A - Bee pollen granules are unprocessed and exactly how they come out of the hive except that they've been dried to remove the moisture from them. A chewable bee pollen will have had the outer shell of the pollen granule removed and been ground into a fine powder and then pressed together into a chewable tablet. A capsule would undergo the same process but instead of being pressed into a tablet, the powder will be inserted in a gelatin capsule. Benefits wise the products are very similar although I feel there is a bit more goodness in a raw granule as it has experienced the least amount of processing.
Q - How many tablespoons are in a 500 gram (1.1 pound) bag of your bee pollen?
A - There are 42 tablespoons in a 500 gram bag.
Q - I've read on the internet that you can only absorb about 5% of the bee pollen you ingest and therefore should only take the pills. Is this true?
A - I have read this as well but have seen no scientific evidence to support this beyond one person's opinion. We see great results with people taking the granules so in my opinion, you absorb the granules very well.
Q - How many grams of protein, carbs, fat and total calories does your bee pollen have?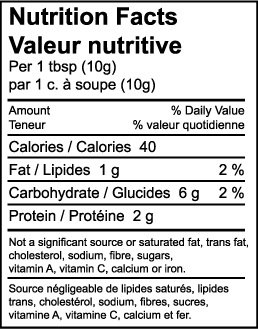 Return to the Main List of All Products
---
Organic Bee Pollen




by Honey Bunny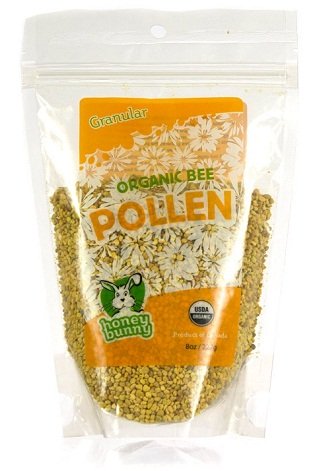 Options:
Milled Powder - 227 grams (0.5 lbs)
$20.99 per bag

Honey Bunny's Certified Organic Bee Pollen is produced in the pristine Peace River region of Northern Alberta, Canada.  This pollen consistently has very nice texture and taste with a wide variety of colors, although no batch is ever the same!  Now you can feel good knowing that you're consuming an award winning pollen that is produced organically!
Return to the Main List of All Products
---
Bee Pollen Capsules 500 mg




by Dutchman's Gold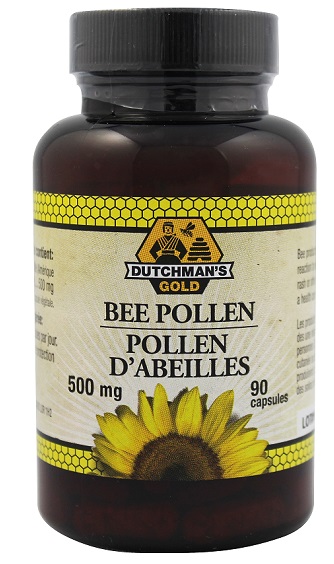 Sizes and Quantities:

Dutchman's Gold bee pollen capsules are sourced from American bees.
Testimonial from Fran S.
"I purchased bee pollen capsules from your website a few weeks ago and have really noticed a difference...my husband is also taking the bee pollen and he tells me it has made a difference for him also..."
Ingredients:
100% American sourced bee pollen, vegetarian capsule.
Recommended Dose:
Take 1 - 3 capsules per day or as recommended by a health care practitioner with or without food.
Return to the Main List of All Products
---
CC Pollen Bee Pollen Chewables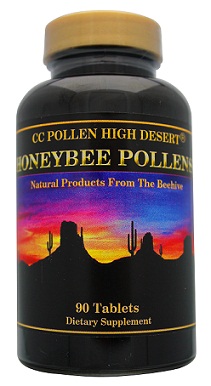 Sizes:
1500 mg 90 tablets - $14.99

CC Pollen Company chewable bee pollen tablets are available in two sizes - one containing 1500 mg's of bee pollen and a smaller size (and sweeter tasting) 136 mg size. This size is great for kids. Containing only American sourced bee pollen, this product is for you if you don't like the raw granules or can't swallow pills. Great for travelling and great for kids!
Return to the Main List of All Products
---
Total Hive Trio




by Dutchman's Gold
Combo pack of Royal Jelly, Bee Pollen and Propolis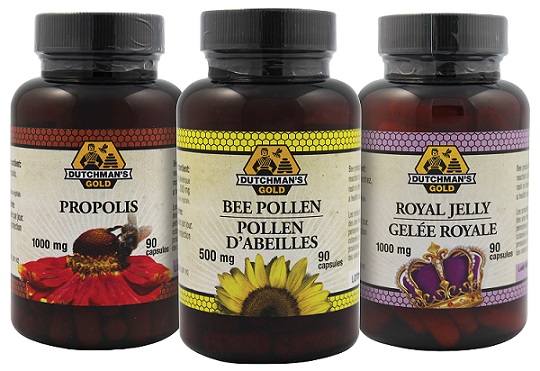 Sizes:

This combo pack contains one bottle of Dutchman's Gold Bee Pollen 90 caps, one bottle of Propolis 1000 mg 90 caps and one bottle of Royal Jelly 1000 mg 90 caps. This is a 3 month supply.  A great value that provides great convenience for those who want to enjoy the benefits of all three jewels of the hive!
Ingredients:
100% American sourced bee pollen, Freeze dried Royal Jelly, standardized propolis, maltodextrin, vegetarian capsule.
Directions for use:
Take one capsule of each product per day with food or as directed by a health care professional. 
Frequently Asked Questions:
Q - I've never taken bee products.   What is the best way to introduce the Total Hive Trio into my system?
A - The best way to introduce bee products into your system is slowly and in small amounts.  What I'd recommend when taking the Total Hive Trio is to begin with the bee pollen capsules.   You'll need to twist open the capsule and dump out a few granules.   Start with one granule each and increase daily by a few granules until you get to one full capsule (if you tolerate it well).   After two weeks of tolerating the bee pollen well, begin taking one capsule of the propolis.    You'll now be taking both pollen and propolis, one capsule each.   Do this for an additional two weeks.   If, after two weeks, you tolerate this well, add one capsule of the royal jelly in each day.    If after two weeks you tolerate the three products well, you could consider adding additional capsules of one or more products to your daily intake based on your health goals and the advice of a qualified health practitioner.
Return to the main list of all products
---
Read Related Articles:



---