Acne or Mallusscum Contagiasm?
by private
(private)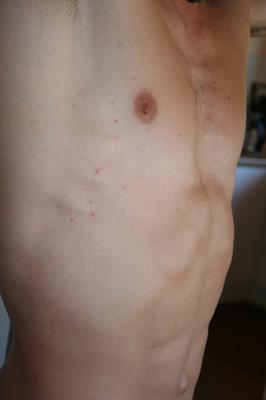 Good day,

I am 26 years old and have boils on my skin around my back and front of my torso. When I was about 14, I did go on Accutane to treat my skin. My face, arms, legs dont have any boils and my skin is very good, however I have for as long as i remember (maybe 3-5 years) boils on my torso. They dont be squeeze and just disappear with sun, but rather keep coming and when squeezed, not much stuff comes out.
I have gone to a Homeopath 3 month ago and she throught maybe it is a version of Mallusscum Contagiasum. She has given me some homeopath tablets, but nothing has really changed.

I attached some pics...

Please advice on the case and treatment

Kind regards.
Join in and write your own page! It's easy to do. How? Simply click here to return to The Natural Skin Care Forum.