Bee-autiful Summer Skin
---
Here's how protect, nourish and 'lock in' your summer glow using bee pollen, royal jelly and beeswax
---
Summer is here.    And that means you'll now be spending more time outdoors, exposing yourself to the sun's rays in a quest for that beautiful, summer glow.
We  know that limited sun exposure is very healthy in order to obtain health promoting Vitamin D.    The optimal amount of exposure for most of us to top up our Vitamin D levels on a bright summer day is only 15 - 30 minutes.  
That is much less than the time you and your loved ones are likely to spend fully exposed at a pool party this summer. Or a day at the beach.  Heck, even just working in your garden for few hours!
So while you'll likely be wearing sun screen during these longer hours in the sun, the fact is that photo-aging still occurs, damaging your skin on the cellular level and accelerating the aging of your skin.  
---
You must apply the right nutrients to your skin before and after sun exposure
---
The reason your skin ages after sun exposure of greater than 30 minutes is because your cells lack the ability to defend themselves.   Let me explain.    
Your skin cells must contain nutrients that act as anti-oxidants.    Excessive sun exposure causes oxidation.   It is the same process that occurs when you burn meat on the barbecue or let an apple turn brown.
That process is oxidation and you literally oxidize your skin if you don't protect and nourish it with the right nutrients or anti-oxidants.
Oxidation = Aging
Oxidation results in a increased risk of wrinkles, sagging skin and even skin cancer.  
---
Protect, nourish and 'lock in' your summer glow with bee products
---
As a nutritionist specializing in skin health, I have spent thousands of dollars over the last decade determining which skin care products protect your skin from the sun and help you to create that beautiful bronze glow that is indicative of healthy, 'summer skin.' 
Using the Summer Skin Care Pack diligently has allowed me to now do the following each summer:
Quickly and easily obtain a healthy, bronze glow without burning

Lengthen the amount of time I am able to keep my tan

Increase my resistance to sunburn   

Eliminate almost all signs of skin aging caused by the poor diet and skin product choices of my youth

Eliminate the need for sunscreen on most days
So How Do You Do This?
---
There are two products in the Summer Skin Care Pack - a face cream and a body cream, both carefully selected for their unique abilities to promote healthy, summer skin. 
---
Summer Skin Care Face Cream:
---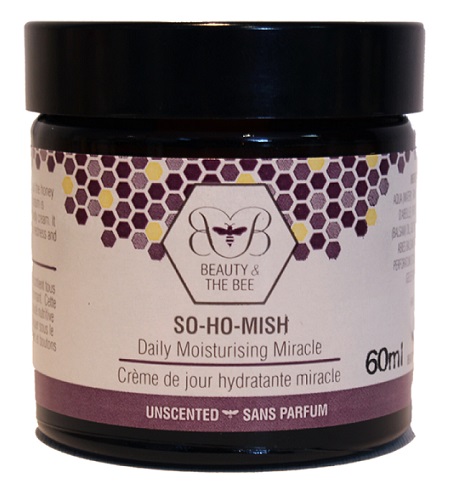 The face cream in the Summer Skin Care Pack is The So Ho Mish Miracle Cream with Royal Jelly.  It contains ingredients like raw honey, royal jelly, bee pollen and propolis.   These substances all come from the bee hive and have powerful, clinically proven moisturizing, cleansing and healing properties.
But more importantly they contain powerful anti-oxidants that have been proven to protect and regenerate the skin after sun exposure.    
Royal Jelly:  In one study, scientists tested the effects of Royal Jelly on UVB (these are the "burning rays" of the sun that are the primary cause of accelerated skin aging). 
What they found was that the cells treated with Royal Jelly had increased procollagen type I production.  What this means is that royal jelly caused an increase in healthy, new skin cells to be produced after sun damage.
Propolis:  Also found in the So Ho Mish Miracle Cream is a substance known as Propolis.   Propolis contains some of the most powerful anti-oxidants known to man and has shown the ability in studies to be a very powerful skin tonic, treating wounds, psoriasis, acne and even dermatitis.  
In a recent study when propolis was applied to burnt skin, it was found that those receiving propolis treatment had enhanced levels of Collagen I and III in their skin.  This suggests that propolis will have a protective and regenerative effect on damaged skin. 
Bee Pollen:   This nutritional superfood has one of the highest ORAC values of any food ever tested.   ORAC value indicates how strong of an anti-oxidant a food is and Bee Pollen is quite possibly the strongest there is.
When it comes to protecting your skin from the sun, high levels of anti-oxidants are absolutely critical to preventing accelerated aging.
---
Summer Skin Care Body Cream:
---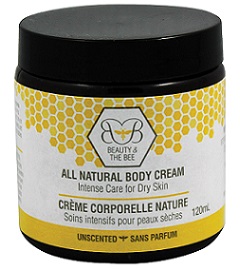 The body cream in the Summer Skin Care Pack is a natural, beeswax based cream from Beauty and the Bee.    There are six reasons why I chose it for your summer skin: 
1) Beeswax Acts as a Protective Barrier:  When applied to the skin, beeswax forms a protective barrier that helps protect it from environmental assaults such as excessive sun while also holding in moisture and reducing dryness.  Beeswax doesn't 'suffocate' the skin and won't clog pores like petroleum based products.
2) Antibacterial:  Beeswax has antibacterial properties which help keep your skin clear of blemishes and bacteria free.   
3) Humectant:  Beeswax helps to keep your skin hydrated over time because it attracts water naturally, keeping your skin hydrated and healthy after a heavy dose of sun.
4) Contains Vitamin A:  As a natural source of this vitamin, beeswax helps support cell turnover and reconstruction.   Vitamin A is a powerful anti-oxidant and is found in dozens of expensive skin care products.
5) Wound Healing:  Because of its anti-inflammatory properties, beeswax has been found to help encourage the healing of wounds (such as sunburn).  It is also being used in hospitals to heal wounds and sores caused by chemotherapy.
6) Hypo-Allergenic:  Beeswax has an irritation potential of zero and a comedogenicity rating of 0 - 2, which means that it will not clog the pores.
---
My Guarantee to You
---
I am so confident that you will absolutely fall in love with the Summer Skin Care Pack that I am willing to give you 30 days to try it out. If after 30 days you do not find that it is not helping you create beautiful summer skin, I will give you your money back no questions asked. 
Now, you might be wondering how I'll do that after 30 days and you've used up the creams.   It's simple - send me the empty bottles and I'll still give you your money back.   I believe that  strongly that The Summer Skin Care pack will dramatically improve your skin. 
---
The Summer Skin Care Pack
---
---
What The Summer Skin Care Pack Includes:
---
Small Pack:
One bottle of So Ho Mish Moisturizing Face Cream 60 ml

One bottle of Natural Beeswax Body Cream 120 ml
Large Pack:
One bottle of So Ho Mish Moisturizing Face Cream 250 ml

One bottle of Natural Beeswax Body Cream 250 ml
---
How To Use The Summer Skin Care Pack:
---
Apply the So Ho Mish Miracle Cream to your face in the morning as a day cream and also before bed as a night cream.

Apply the Natural Beeswax Body Cream to your skin immediately after sun exposure.  Apply it to your sun exposed skin twice daily.
---
Return to the Main List of All Products