GlucoSmart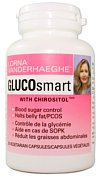 $54.99 per 30 capsule bottle

Brought to you by Lorna Vanderhaeghe, GlucoSmart is a revolutionary blood sugar balancing and weight loss product.   One capsule a day will stabilize blood sugar, reduce belly fat and appetite.  For rapid fat loss, combine with CLA Plus.  
What to expect from GlucoSmart:
Ingredients:
Each Capsule Contains:
D-Chiro-Inositol (ChirositolTM) (Carob Pods, Ceratonice Siliqua) ...... 600mg
Vegetarian Formula
Chirositol has been researched specifically for women with PCOS, acne, male facial hair growth, elevated androgrens (male hormones), belly fat, insulin resistance and diabetes.
Recommended Dose:
Take 1 capsule daily or as directed by a healthcare practitioner. 


GlucoSmart Scientific Research:
For over 25 years, a nutrient called D-Chiro-Inositol has been extensively studied at the Virginia Medical School. Over 30 published studies have been completed since 1979. Chirositol, which contains around 95 percent D-chiro-inositol derived from carob, is a new nutrient for the treatment of insulin-resistant conditions including metabolic syndrome also called syndrome X,
Type 2 diabetes, polycystic ovarian syndrome, excess androgen-related conditions like male facial hair growth in women, belly fat and weight management. It has also been shown to reduce appetite and improve serotonin, our "happy" hormone. Reduced serotonin or poor metabolism of serotonin is linked to increased sugar cravings. So by modulating serotonin, chirositol helps control appetite.
Chirositol is a molecule that mediates insulin activity. It is structurally similar to glucose. By mimicking insulin activity, it helps control blood glucose levels, glucose storage or disposal of glucose in the cell. And it will not cause hypoglycemia or low blood sugar in those with normal blood sugar levels.
Beyond the compound's insulin metabolism and blood glucose control benefits, existing studies have also shown it is beneficial for polycystic ovary syndrome (PCOS), building muscle and weight control. In those women with PCOS, weight gain around the hips and thighs, insulin resistance and higher than normal androgens (male hormones), and infertility due to not ovulating are major components of the disease. PCOS is a very challenging condition to treat and chirositol effectively reduced excess serum androgens and reduced weight gain and appetite. In women who also do not ovulate or have irregular periods associated with insulin resistance and PCOS, chirositol worked wonders. Most women with PCOS are overweight but for those that are thin and have PCOS, chirositol maintains normal blood sugar levels while normalizing ovulation, reducing excess circulating male hormones and normalizing menstrual cycles.
Remember that permanent weight loss requires stabilization of blood glucose and improved insulin sensitivity. Most of the glucose in your body comes from the carbohydrates you eat, so you must eat only good carbohydrates, not processed sugars, crackers, cookies, biscuits, bagels, and breads. It is not complicated - eat foods that are as close to their natural state as possible, with lots of variety and in moderation. Chirositol added to this program is an effective way to quickly normalize blood sugar and insulin. Use 600 mg per day of Chirositol with food. 


Return from GlucoSmart to the Main List of All Products