BoneBooster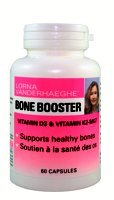 $27.99 per 60 cap bottle

What to expect from BoneBooster:
• Vitamin K2 MK-7 is the best form of vitamin K
• For osteopenia and osteoporosis
• Promotes heart health
• Helps immune function
• Use in conjunction with Estrosmart for heavy periods
• Use in conjunction with Collagen Plus for strong bones
Ingredients:
Each Capsule Contains:
Vitamin D3 (cholecalciferol).....1000 IU
Vitamin K2 (menaquinone-7).....100 mcg
GLUTEN FREE
Recommended Dosage:
Adults (12 years and older): Take one capsule daily with food or as directed by a practitioner. 

Bone Booster is a unique formula containing vitamin K2 MK-7 and vitamin D3. Although women are taking calcium in record numbers, there has not been a decrease in the rates of osteoporosis and osteopenia. Calcium on its own will not build strong bones. It is essential to take bone-building nutrients including vitamin K2 MK-7 and vitamin D3 along with Collagen Plus to prevent fractures and promote bone health.
Advantages of Vitamin K2 MK-7 Over Other Forms of Vitamin K
1. 10 times more absorption than other forms of vitamin K
2. Regulates calcium in blood vessels to promote bone health
3. MK-7 created probiotics in the gastrointestinal system
4. Non-animal sourced and suitable for vegetarians/vegans 


Return to the main list of All Products