AdrenaSmart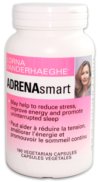 Sizes:

Do you wake up each morning needing coffee?  Do you feel exhausted by mid day but then wide awake come night time?  Are you constantly fatigued?   These are just a few symptoms of adrenal fatigue, a condition that is extremely common today.  Left untreated, adrenal fatigue could leave you in a state of total burnout.      
What to expect from AdrenaSmart:
• Increase in energy, endurance and well-being
• Rejuvenation, increased sexual performance
• Enhanced immune function, and anti-tumor properties
• Reduced pain and inflammation (injuries, arthritis)
• Antioxidant properties that fight free radical damage
• Anti-Aging
• Cardiovascular protection
Suggested Use:
Take 1-2 capsules of AdrenaSmart midday with a snack.

Ingredients:
Rhodiola rosea Extract (3.5% total rosavins) 100 mg
Rhodiola increases resistance of the body to chemical, biological and physical stressors. In Russia it has been used for centuries and has very powerful anti-aging and anti-stress activity. Rhodiola enhances mental and physical performance and is more powerful than other adaptogens (see below). Most adaptogens are warming in nature but Rhodiola is cooling and as a result is useful for menopausal women. It has been proven to enhance the immune system and to have anti-depressive and anti-tumor activity. Studies also show that Rhodiola regulates the heart by increasing oxygen utilization.
Suma (Pfaffia Paniculata) 100 mg
Suma is called "para todo" which means "for everything". It is considered a regenerative tonic for the nervous, reproductive and digestive systems and is used to treat hormonal disorders, sexual dysfunction, sterility, arteriosclerosis, fatigue, diabetes, cancer and many types of stress. Nutritionally Suma contains 19 amino acids, electrolytes and trace minerals including iron, magnesium, silicae, zinc and vitamins A, B-1, B-2, E, K and pantothenic acid.
Schizandra Berries (Schizandra chinensis) (2% Schisandrins)(5:1 from 400 mg Schisandra) 80 mg
Schizandra is commonly used as a general tonic and to promote liver health. It counters the effects of stress and fatigue. Studies show it has normalizing effects in cases of insomnia, nervousness and improves physical endurance, mental capability and is hepato-protective. It has also been found to have antioxidant and antibacterial properties.
Ashwagandha (Withana Somnifera) (1.5% withanolides)(5:1 from 400 mg Ashwagandha) 80 mg
Aswagandha is widely used in Ayurvedic medicine, the medical system of India. It is used primarily as a general tonic to increase energy and to improve overall health and longevity. Studies have proven the powerful anti-stress effects as well as the antioxidant and anti-inflammatory properties, anti-tumor properties as well as the immune modulating properties. Ashwagandha has been shown to improve sexual performance, have calming effects on the central nervous system, and overall rejuvenating effects.
Other Ingredients:
Encapsulated in a vegetarian capsule (cellulose, purified water) with rice powder and vegetable grade magnesium stearate (Lubricant).
All of the herbs in AdrenaSmart are Adaptogens.
Vegan friendly.


Return from AdrenaSmart to the main list of all products