Dear



Angela here from Bee Pollen Buzz.com. Welcome to another issue of The Buzz, our free e-zine covering Natural Health From the Hive!
Allergists are calling this year "the worst allergy season ever." Lots of information in this issue on how to use the products of the hive for allergy relief.
I'm also thrilled to announce the launch of an exciting new product that I helped develop with my husband called HoneyMaxx. HoneyMaxx is the world's first honey-based sport and active lifestyle drink. If you sweat then HoneyMaxx might be for you.
Worst Ever Allergy Season is Here
I'm sure all of us know at least one person suffering from allergies right now. With the increased air pollution, greater amounts of genetically modified foods being consumed and more and more toxic substances being added to our environment every day, it is no wonder that more and more people are suffering from seasonal allergies.

Fortunately, nature has provided some help in the way of bee pollen. Here is a recent testimonial I received from one of our customers:

As Told by Carrie L. from Maine

My husband (33, active, healthy) has terrible allergies! When I met him he was allergic to my dog and that was a very big problem for us. There was NO WAY I was going to part with my 4-legged companion but I really wanted him around as well so I started looking into natural antihistamine blockers.

I started reading up on bee pollen and was astounded by the testimonials. However, testimonials can come from just about anywhere so I bought a small container of bee pollen granules and we gave it a try. My husband (boyfriend at the time) didn't feel the effects right away but over time and without our really noticing, his eyes stopped itching and watering after he mowed the lawn, he didn't seem to have such a negative reaction to my dog's fur and even his mother's cat was tolerable!

My husband's daughter is 6 and also has allergies to pollen, dander, dust and things of that nature so we started giving her a small amount of bee pollen with her breakfast and dinner and sure enough, she has suffered far less from her allergy symptoms. Even after they stopped taking it for a while their symptoms were less severe. However, we ran out, spring is here and so are their allergies!"

Read more about what bee pollen can do for your allergies here.


HoneyMaxx - A World's First!
HoneyMaxx is the world's first honey-based sport and active lifestyle drink. If you run, walk, garden, do yoga or partake in any activity that causes you to sweat, then HoneyMaxx is for you.

A low calorie, powdered drink that you mix with water, HoneyMaxx will supply you with honey-based energy and electrolytes to ensure that you have the energy to keep going while avoiding painful muscle cramps.

With natural and organic flavoring and only natural ingredients, HoneyMaxx is the only sport and active lifestyle drink to contain no refined sugars. Perfect for your active children, HoneyMaxx is free of food coloring and GMO ingredients.

Read more here.


Propolis Treats Allergies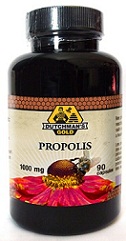 Scientists gave propolis to rats for two weeks and found that it significantly inhibited histamine release from the rats mast cells. Histamine is the compound in the body that makes you sneeze, gives you watery eyes and a runny nose - it generally makes your life difficult. Anti-histamines are the main allergy drugs sold over the counter.

The scientists went on to say that their results clearly demonstrated that propolis may be effective in the relief of symptoms of allergic rhinitis through inhibition of histamine release.

So come allergy season, don't only take your bee pollen but add a daily dose of propolis!

View our entire selection of Propolis products here.