Dear



How to Treat Psoriasis & Eczema
As a psoriasis or eczema sufferer are you tired of the itchy, scaley, red patches on your skin? What about the burning irritation and constant scratching? Fed up with the revolving door of corticosteroids that your Doctor has put you on with no long term solution in sight?
If you answered yes to any of my questions, read on. A very recent study has revealed that relief might be on the way for you in the form of 'Bee Glue.' Learn how this beehive superstar might be a safe, natural, non-toxic option for you here.
Your January Coupon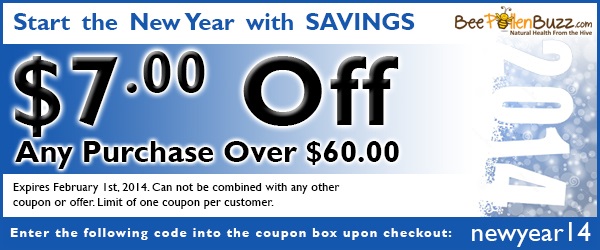 Propolis Increases Cancer Survival
Scientists recently set out to investigate whether there was any synergistic effect of combining an anti-cancer drug with propolis in order to extend survival times.

Propolis has shown very powerful anti-cancer activity in recent studies so the question of whether using the two together might create a even stronger effect was definitely worth investigating.

Read more about the promising outcome and how you might use Propolis in your health program here.

Buzz E-zine Update (from Angela)
In the coming weeks, we will be moving The Buzz e-zine over to a new program. Please be on the lookout for an email from us asking you to opt into the new Buzz E-zine.

With the new program we'll be able to offer you even greater value including new e-books, coupons, discounts, and the latest health boosting information from the hive. I hope you'll take the 30 seconds to accept the invitation to our new platform!

Bee healthy,

Angela