Dear


Welcome to the September edition of The Buzz! I've got lots of exciting news from the Bee World for you as well as an exciting new product to introduce you too.

Royal Jelly is in the news again. Studies continue to show the amazing benefits of this wonder compound from the hive now include anti-aging properties as well as mood enhancing benefits.

And we can't forget about propolis. We now know that it helps treat arthritis and inflammation. (no wonder the bee's work so hard...they don't get sore joints!)
Royal Jelly Extends Lifespan
We're all looking to age gracefully and recent research strongly suggests that consuming Royal Jelly may help us do just that!

Read about a very unique compound (found only in Royal Jelly) that has scientists very excited.

Click here.


Propolis Helps Arthritis
That dark, resinous compound called Propolis continues to wow scientists with the long list of health benefits it possesses.

The list just got longer as a recent study revealed that if you have sore joints, this supplement just might 'bee' for you.

Read about treating arthritis with propolis here.


New Product - Honey Lozenges!
'Back to school' often means that sore throats are around the corner for many of us!

These honey lozenges are one of my absolute favorite products! They soothe a sore throat like nothing else I've come across. Made from pure, Canadian honey these 100% natural lozenges are safe for the entire family and taste amazing!

You can find them in our online store now!


Can Royal Jelly Treat Depression and Anxiety?
Who isn't stressed today? Apparently the bee's aren't because Royal Jelly has serious mood balancing and anti-anxiety properties that are now coming to light.

Read more here.


Adrenal Fatigue & Stress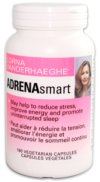 Speaking of stress and anxiety, if you have any of the following symptoms, you may be suffering from adrenal fatigue or burnout:

- cravings, weight gain, poor sleep quality, low immunity, heart conditions, poor digestion, low libido and low energy levels mid-day

The reality is that many, many people suffer from adrenal fatigue or even burnout due to the high pace of life today.

AdrenaSmart, along with Royal Jelly and Bee Pollen make and excellent combo for combating stress. These 3 have the ingredients necessary to repair and help restore the adrenal glands.

Read more here.

Have a wonderful September and please don't forget to follow Bee Pollen Buzz.com on Facebook

Bee Healthy ~ Angela